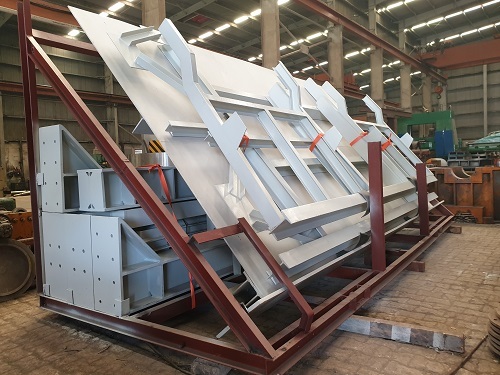 Structural Fabrication Work
Product Description
Structural Fabrication
In order to aid and quarter the process system structural fabrication is compulsory with different shapes and sizes of sectioned steels such as Girders, Angles, I-beams, C-Channels, Plates etc. We not only fabricate the individual parts and sections of the projection but also supply absolute factory outbuilding including to house the machinery.
Types of Equipment


The range of supply incorporates-


Pre-fabricated shed constructions including rafters, box columns, purlins etc.
Heavy crane supportive artifacts and platforms
Machinery substructure and functional works
Heavy duty supported frames works
Storage tanks & silo fabrication


Heavy Structural Fabrication Work is tackled for assorted industrial spheres including-


Mineral and ore processing plants
Sugar plants
Steel plants
Cement plants
Power plants etc.


Materials

Different grades of steels as per national and international standards are employed for Heavy Structural Fabrication Work. The plates and sections are of time-tested quality from well established suppliers including European suppliers. The grades of the steels utilized are-


IS 2062 Grade A/B/C
IS 2002 Grade I/II/III Boiler Quality
ASME SA 516 Grade 60/65/70
ASTM A 516 Grade 60/65/70


Rolling Capacity


Up to 100 mm Th x 3500mm L on 3 roller rolling machine


Welding Technique


MIG, TIG 2 mm to 8 mm electrodes, Submerged metal Arc


Welder Statement
WPS Qualified (attested and sanctioned by third party inspection authority)


Weld Trials


Radiography
Ultrasonic testing
Bend testing
100% on weld conjuncts


Lifting Capacity
Elevated hook cranes up to 75 MT lifting capacity
2 Bays with 75 MT, 1 bay with 25 MT


Dynamic Equalization


Up to 2500 mm diameter
Sand Blasting
Assembly size of 7000 mm x 7000 mm
Stress Alleviating
Furnace size of 4000 mm x 8000 mm


Some common steel grades we are making use of in offered structural work include :


| | |
| --- | --- |
| IS 2062 Grade A/B/C | IS 2002 Grade I/II/III Boiler Quality |
| ASME SA 516 Grade 60/65/70 | ASTM A 516 Grade 60/65/70 |
Technical Specifications:


| | |
| --- | --- |
| Rolling Capacity | Up to 100 mm Th x 3500mm L on 3 roller rolling machine |
| Welding Technique | Submerged metal Arc, MIG, TIG; 2 mm to 8 mm electrodes |
| Welder Qualification | WPS Qualified (attested and approved by third party inspection agency) |
| Weld tests | Radiography, Ultrasonic testing, Bend testing, 100% on weld joints |
| Lifting Capacity | Overhead hook cranes up to 75 MT lifting capacity, 2 Bays with 75 MT, 1 bay with 25 MT |
| Dynamic Balancing | Up to 2500 mm diameter |
| Sand Blasting | Chamber size of 7000 mm x 7000 mm |
| Stress Relieving | Furnace size of 4000 mm x 8000 mm |
Trade Information
100 MT Per Month

1 Months