Silos and Tank Fabrication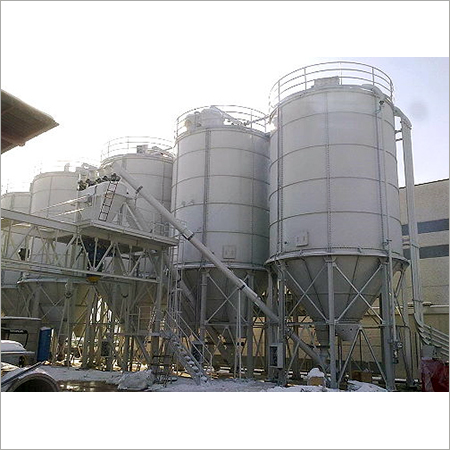 Silos and Tank Fabrication
Price And Quantity
Product Specifications
Silos and Tank Fabrication
Product Description
As the name suggests, Storage Silos & Tanks are the storage equipments, which are used for the storage of dry items such as food grains, cement, and liquids such as chemicals, water etc. etc. Used for the long term or short term these are also known for their blending (mixing) of multiple items in which case these are named as Blending Silos. These can have a vast ambit of size opening from a few feet in diameter up to say 50 feet diameter and 100 feet or more of height. These are commonly designed and fabricated out of mild steels in surroundings as per customer demands in terms of capacity and type of material. Every single silo is specifically engineered to stand firm in environmental changes, seismic forces, wind loads etc. Welded silos of the Storage Silos' range can be made-up by utilizing leg, skirt or structural assistance.
Different international codes are followed for designing and manufacturing of silos not only from the safety point of view but also for material strength. These specifications are utilized in conjunction with the following codifications:
AISC - American Institute of Steel Construction

UBC -Uniform Building Code

AWS - American Welding Society

FDA - Food and Drug Administration

ASTM - American Society for Testing and Materials

SAE - Society of Automotive Engineers

OSHA - Occupational Safety and Health Administration

SSPC - Steel Structures Painting Council


Design Criteria

While the designing process of silos, some primary design criteria are considered like:

Wind factor with consolidated height, vulnerability and gust factor coefficient is also considered.

Seismic zone/powers factor.

Cooperative live, dead, and roof loads are consistently dealt out, with all manholes, nozzles and filter positions that are accordingly designed.

Silo designs are based on buckling posture of the body as well as on supporting construction.

Silos are planned to bear atmospheric pressures.

The discharge gates/equipments, inlets are configured on the basis of load and liquidity of the material(s).

There are assorted other design criteria such as kind of blending equipment (open air slides etc.), type of material, soil bearing capability on full load etc.
Manufacturing Specifications

Welding

When particularized, all structural welding shall adapt to WPS regulations.

Shell seams shall have correct incursion using grade-appropriate welding wire with automated MIG or SAW welding instrumentality.


Surface Preparation

All weld surfaces with distinct and sharp boundaries are ground, the undercuts are fixed, mended and re-ground. All weld spatter is abstracted and outside surfaces are grit or sand blasted as per the demand.
Coatings Carbon Steel
Silo exterior is glazed with minimal two rust preventive coatings that are gray or red primer (of branded manufacturer) and finishing epoxy or enamel paint in accordance with the customers requirement.
Materials Standards
Different grades of steels as per national as well as international standards are utilized for silo fabrication. All sections and plates are of proven quality from well acknowledged suppliers including European suppliers. Few of the common grades of steels utilized are-

Steel plates as per IS 2062 Grade A/B/C, SA 516, A36, ASTM 569 etc.

Functional shaped/sections as per ASTM A36

Functional pipes as per ASTM A53.

Ladders, cages, handrails, and platforms are planned to meet OSHA duties and are welded units to decrease field erection.


Rolling Capacity
Up to 100 mm Th x 3500mm L on 3 roller rolling device.
Welding Technique
Swamped metal Arc, MIG, TIG 2 mm to 8 mm electrodes.
Welder Qualification
WPS Qualified (authenticated and authorized by third party inspection agency)


Weld tests

Radiography

Ultrasonic experiment

Bend testing

100% on weld conjuncts
Lifting Capacity

Elevated hook cranes up to 75 MT lifting capacity

2 Bays with 75 MT, 1 bay with 25 MT


Impulsive Balancing
Up to 2500 mm diameter
Sand Blasting
Chamber size of 7000 mm x 7000 mm
Inflection Relieving
Furnace size of 4000 mm x 8000 mm
Steel Grade Used :

Some of the common grades of steels used by us are -

IS 2062 Grade A/B/C
IS 2002 Grade I/II/III Boiler Quality
ASME SA 516 Grade 60/65/70
ASTM A 516 Grade 60/65/70


Technical Specifications:

| | |
| --- | --- |
| Rolling Capacity | Up to 100 mm Th x 3500mm L on 3 roller rolling machine |
| Welding Technique | Welding Technique Submerged metal Arc, MIG, TIG, 2 mm to 8 mm electrodes |
| Welder Qualification | WPS Qualified (attested and approved by third party inspection agency) |
| Weld tests | Radiography, Ultrasonic testing, Bend testing, 100% on weld joints |
| Lifting Capacity | Overhead hook cranes up to 75 MT lifting capacity, 2 Bays with 75 MT, 1 bay with 25 MT |
| Dynamic Balancing | Up to 2500 mm diameter |
| Sand Blasting | Chamber size of 7000 mm x 7000 mm |
| Stress Relieving | Furnace size of 4000 mm x 8000 mm |