Mill Gears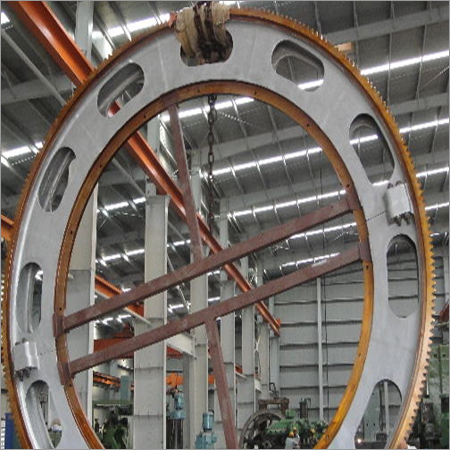 Mill Gears
Price And Quantity
Product Specifications
Product Description
Leveraging on well equipped infrastructure facilities and dedicated staff members, we are proficient to manufacture and export an exclusive range of Mill Girth Gears. These gears are designed by our experts by utilizing the premium quality steel, iron and bronze in accordance with international quality standards. Find huge application in steel re-rolling mills, paper industries and sugar mills, these products are used for reducing motor speed to working speed of mill.
Features of Mill Girth Gears
Easy installation
Low operational costs

Available in different hardness range



Site Audit & Gear Inspection:
Keeping girth gear's remaining working life in mind, the condition of the gear can be effectively evaluated at site. According to the findings of audit recommendations existing life of the gear or the requirement of new gear are made.
Gear Designing:
In order to create thorough manufacturing drawings for production work, absolute dimensional examinations are performed on the existing gear. These inspections also cover required drilled chips collection (if possible) for hardness tests, and for chemical analysis as well.
Selection of Material:
For having the required mechanical properties, a suitable grade of material is selected in alloy steels, carbon steels, SG iron, graded irons, phosphorus bronze and others. We primarily provide gears & pinions in cast as well as forged varieties. Also, different international material standards are effectively used such as AISI (USA), ASTM (USA), BS (British), GS (German), JIS (Japanese) and IS (Indian) standards.
Fabrication & Castings:
Forging / Casting is processed keeping minimal required machining allowances on all the applicable and requisite surfaces and faces. For achieving perfect mechanical properties, the casting / forging is volume-heat-treated, also in special enclosed furnaces. In this heat treatment proper temperature controls are well-maintained. Also, with the of use latest spectrometers chemical testing is performed. Equotip type hardness testers for hardness testing and universal testing machines for mechanical properties are used. Moreover, non-destructive testing is executed so as to find internal and surface defects including Magnetic Particle Inspection (MPI). For effective results, Ultrasonic Testing (UST) is carried out after the job proof machining.
Facing:
All the girth / split gears experience the joint facing on each side of joints with special horizontal floor borers (SKODA, UNION). Further, suitable machining work is done for perfect finish. Advance heat treatment is to be performed that may create deformation on the job and thus variation in the sizes. In all above cases finish machining is performed after the initial turning and heat treatment.
Turning:
After the facing work the task of turning is carried out on special vertical turret lathes (DORRIES, FRORIEP and BERTHIEZ). Appropriate machining allowance is also needed here similar to the joint facing. And the finish machining is performed after the heat-treatment and finish-joint-facing.
Gear Cutting:
Using special hobbing machines (MAAG, WMW), we do the best possible teeth cut work on finish turning of the gear. Mostly, teeth cutting is done in more than two cuts - one for rough work which creates major chunk of the metal, and another for fine finishing which makes finished size. Stresses are made during teeth cutting because of a big volume of cut metal and therefore the job is relieved from stress after the first-rough-cut.
Heat Treatments:
Gears/Pinions are performed with various forms of heat treatments, and all such jobs are volume-hardened at forging / casting stage. In order to relieve the stresses created during machining, the gears are heat treated again as required on a case-to-case basis. Also the surface portion jobs may be induction hardened where extreme hardness is required. Moreover, to maintain the required range of hardness the jobs are oil/polymer quenched.
Various Types of Heat Treatments:

Volume Hardening
Induction Hardening
Nitriding
Stress Relieving

Case Carburizing
Gear Inspections:
With the use of special hand, mechanical and automatic instruments / testers we do perform thorough gear inspections. Various checks are done such as dimensional measures, hardness testing, chemical testing and mechanical testing. Also, we perform the non-destructive testing for inner defects which includes ultrasonic testing (UST), along with magnetic particle inspections (MPI). Developer penetrant testing (DP) for surface crack detection is performed, too. Vernier calibre as well as profiles testers are used for gear tooth profiles. For optimal meshing between the teeth, it is checked for correct contact on the tooth flanks including both the girth gear and pinion. Ashoka also connected with third party inspections agencies including LLOYDS, DNV, SGS, TPL, MOODY etc. for witnessing of aforementioned tests.
On Site Installation:
We at Ashoka offer on-site installation of our gears and pinions with perfect supervision at all level. Our supervision experts present at the site to carry out proper installation work. Local workforce, installation tools and lifting equipment etc. are to be provided by the clients. As per the special requirements of the clients we can also undertake entire job of installation as well as commissioning.
After Sales Support:
Ashoka provides after sales technical support for all gears and pinions to its clients. And it offer on-site services on chargeable basis.