Cane Crusher Mills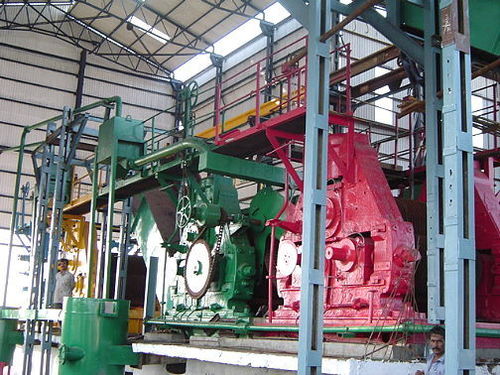 Cane Crusher Mills
Price And Quantity
Product Specifications
Product Description
We are exporter and manufacturer of Cane Crusher Mills mainly in countries Philippines,United States,Tanzania, Australia, Egypt, Argentina, Bolivia,Thailand, Ethiopia, Indonesia, Libya, Kenya, United Kingdom, Zambia etc. We are exporting Cane Crusher Mills to fulfill our buyers requirement on regular basis .

Contact or email for best Cane Crusher Mills at best rate .

Backed by the rich industry base and experienced personnel, our company is able to emerge as one of the eminent manufacturers and exporters of Cane Crusher Mills. Manufactured using high grade raw materials like cast iron and mild steel our range is popular in the market for their impeccable performance and easy functioning. Cane Crusher Mills are widely used for the extraction of juice by crushing sugar canes.
Features:


High efficiency of extraction
Provided with a hydraulic system
Easy to assemble or dismantle


Application:


Our engineered cane crusher mills are just perfect for the extraction of juice from the cane. It is a stage wise crushing process, using a series of well-designed grooved rollers in a crushing plant / mill. For crushing / extraction of juice, the cane is fed between the rollers for further processing. Also, a series of individual mills are placed together to form a perfect milling depending upon the efficiency as well as capacity of the extraction.


Working Principal:


Cane stalks are fed into the main cane traveler, where it passes through a row of cane cutters to cut the cane into fibers. Then a fiberizer precisely shreds the cane fibers and pass these to a below-placed belt conveyor, where it is transferred to the feed rake carrier. Then the fine shredded cane fibers experience the first mill. After passing through it, the bagasse shifts to the subsequent mills for further juice extraction process. The discharged bagasse can be further used for cattle feed, boiler fuel, etc.


General Design Features


Mill Rollers:


Depending upon the number of rollers, a crusher mill can have various configurations. Previously a three roller mill was generally used, and nowadays it has been converted into four roller / five roller / six roller mill. Four roller mill is the most common for the use.


Set on forged alloy steel shaft, the rollers are made from course-grain cast iron shells shrunk. The top rollers have cross type coupling ends. For continuous & effective crushing, the rollers are provided with circumferential v-grooving / radial grooving. Further, a core four roller mill possesses an under feed pusher-roller for improved extraction.


Head Stock, Top/Side Caps:


Head stock has a king boltless design, manufactured from tested mild-steel IS 2062 plates. The head stocks are mounted on the base-frame of the mill. Top / side caps are of cast-steel as per IS : 1030 grade casting. Top caps hold the mill housing to provide extra strength for any lateral thrust of top bearing with two bolts, it offers safety for working.


Mill Hydraulic System:


Every mill is furnished with a hydraulic system incorporating hydro-pneumatic accumulators, for the journal of top rollers. For understanding of roller movement an indicator is provided. And the hydraulic system is thoroughly designed for having adequate working oil-pressure. Moreover, a forced feed oil lubricator is provided for each mill so as to have proper distribution of lubricant.


Mill Drive:


Perfect for transmitting the desired power continuously, Mill drive is joined through a flexible gear coupling to a gear reducer. It is effective for shock load conditions at full speed of the motor. Operational speed of mill rollers is generally decreased to an output rotary motion of around 7 RPM, it is achieved by a set of pinions mounted on all mill roller. For enclosing the open pinions suitable bed plates are provided, made in mild steel guards and sections. Top roller of the mill is well-connected to the transmission pinion shaft. Two cast steel couplings are also provided to safeguard the reduction gearing units.


Four Roller Mill


Design Features:


Robust housing design for heavy-duty and stability that can offer higher throughput.
Pin-type construction, easy to assemble / dismantle.
Fast emergency maintenance.
Close setting of roller and housing etc.
Easy vertical and horizontal adjustments.
Perfect for cane feed with vertical donnelley chute.


Basic Advantages:


Optimum capacity with no extraction loss.
No mill-gripping problems.
Ease in setting, assembling and dismantling, due to simplicity in design.


Five Roller Mill

Design Features:


Easily adjustable with conventional three roller mills.
Simple maintenance with hinged housing.
Provide efficient juice drainage with static collar and stainless steel linings.
Heavy construction pressure chute with stainless steel lining, designed for smooth flow
Better gripping and life due to toothed roller hard-faced


Basic Advantages:


25 percent increased capacity over conventional mill.
No loss of extraction.
Higher crushing rates.
Improved gripping, reducing the re-absorption.
Reduction in installation cost.


Technical Data Table for Hydraulic Cane Crusher :


Model

Size of Roller in the Mill
(Dia x Length x No. of Roller)
Inch x Inch x No.

Capacity of Cane Crushing
(Tons per Hour)

Power Required (HP)

AMTC-11-14-6

11 X 14 X 6 Roller

4.5

75

AMTC-12-14-9

12 X 14 X 9 Roller

5

115

AMTC-13-18-6

13 X 18 X 6 Roller

7.5

100

AMTC-14-21-9

14 X 21 X 9 Roller

10

160

AMTC-16-24-6

16 X 24 X 6 Roller

15

135

AMTC-16-24-9

16 X 24 X 9 Roller

20

210

AMTC-18-30-9

18 X 30 X 9 Roller

25

280

AMTC-16-24-12 +FB

16X24X 12 Roller with Fibrizer

25

800

AMTC-18-30-12 +FB

18X30X 12 Roller with Fibrizer

38

1080

AMTC-20-40-12 +FB

20X40X 12 Roller with Fibrizer

50

1500

AMTC-24-40-15 +FB

20X40X 15 Roller with Fibrizer

75

2500
Technical Details

Technical Details