Bull Gears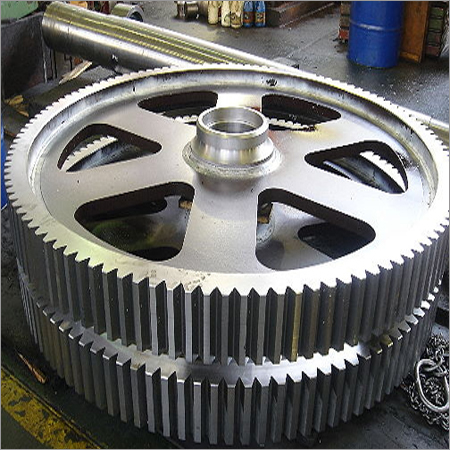 Bull Gears
Price And Quantity
Piece/Pieces

50000.00-1000000.00 INR
Product Specifications
Carbon Steel, Alloy Steel
Product Description
With years of experience, our business unit is engaged in manufacturing and exporting an outstanding range of Bull Gears. These gears are designed from premium quality, steel and other materials to meet the diverse application requirements of our clients. Widely used in mining industry, steel plants, power plants, paper plants and fertilizer plants for different applications, our components are checked by our experts for interference checks and dimensional accuracies.
Features

Low noise and maintenance
Precisely engineered
Reliable performance


General Gear Materials:


In order to achieve intended performance, reliability and life of the gears it is essential to select suitable gear material. For high load capacity hard material is required which is challenging to machine; whereas for high precision work easy to machine materials are used. Therefore, precision work has lower hardness ratings and strength. Light non-ferrous materials are fine for lightweight and small jobs. The gear materials are wide ranging from non-ferrous, ferrous metals and light-weight metals, to different plastics. Also, the final selection is based upon the properties of material and application requirements.


SG Iron:


It is advantageous to save machining costs in the production of large gears, and its various grades are widely used for the same. Cast steels offer this advantage along with higher tensile and yield strength. But it provides superior internal damping properties, under dynamic conditions. it is supplied in different grades and forms, and SG Iron grade is commonly used for large gears.


Carbon & Alloy Steels:


Carbon Steels and Alloy Steels are two main divisions of the steels. Carbon steels offer cost-effective and easy machining along with ability to be hardened. But its major disadvantage is that it is lower corrosion resistant. Alloy steel is generally a mixture of iron and other important elements. It covers a wide range of alloys from low-grade to high-grade to special high alloys providing utmost strengths. Moreover, the alloy steels are most versatile with their wide range of heat treatment properties.


Stainless steels are used for specific applications because of its high cost factor. Divided into two varieties Stainless Steels have 300 series which is called true stainless steels and can resist all corrosive conditions. Another is the 400 series which is not truly stainless, it offer less corrosion resistance only in certain conditions, otherwise considered stainless.


Presently numerous material standards are followed all over the world. All the standards are developed keeping specific properties as well as applications in mind. The standards cater details on chemical composition, material hardness, mechanical properties, heat treatments etc. for accomplishment of desirable properties.


| | | |
| --- | --- | --- |
| TYPE | MACHINING CAPACITY | APPLICATION |
| SPLIT / GIRTH GEARS RING GEARS | 8.5 m Dia x 50 Module | Ball mills, rod mills, rotary kilns, rotary coolers, dryers for cement plants, power plants, steel plants, mineral grinding & processing plants etc. |
| SUGAR MILL GEARS | 8.5 m Dia x 50 Module | Crusher mills, crush rolls for sugar plants |
| FABRICATED GEARS | 5.0 m Dia x 50 Module | Ball mills, rod mills, rotary kilns, rotary coolers, crusher mills, mining, steel plants, power plants, paper plants, fertilizer plants, grinding applications, heavy machinery etc. |
| WORM GEARS | 4.0 m Dia x 40 Module | Gear reducers, open gearing for various industrial sectors specified above |
| GROUND GEARS | 1.9 m Dia x 30 Module | Gear reducers, machine tools and various other applications for above specified industrial sectors. |